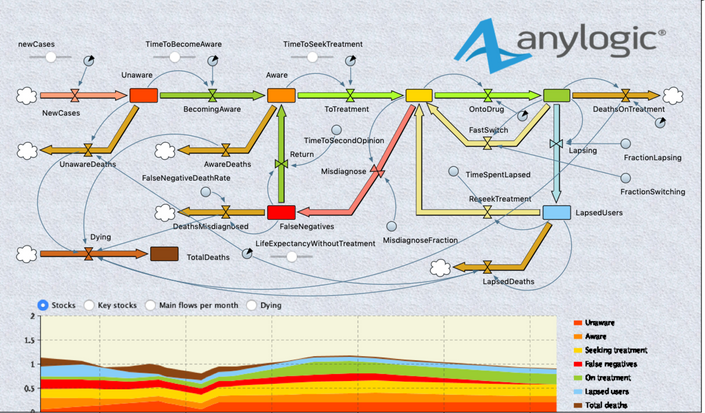 On this course you will learn how to develop simulation models using AnyLogic, with total focus on the System Dynamics paradigm. You will learn all the tools and concepts required to model advanced scenarios to solve complicated business questions from a System Dynamics perspective.
This course doesn't require any previous knowledge and you will:
Understand the mathematical background of the System Dynamics theory
Learn how to develop conceptual models using causal loop diagrams
Learn all the System Dynamic building blocks
Good practice concepts to build robust models
Generic structures and archetypes that you can apply directly for your particular problem
Experiments to validate and optimize your models
Learn functions to simplify model development and to understand the models behind these functions
Integrate databases to populate your model
Special AnyLogic techniques to improve the functionality of your SD models
How to integrate System Dynamics with other simulation methods
Your Instructor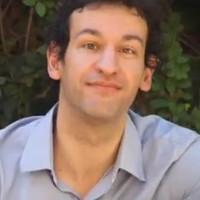 I am an AnyLogic evangelist and Six Sigma enthusiast. Multi-Method Simulations are my passion and I travel around the world helping companies and individuals fulfill their simulation goals.
I am an electronics engineer with an MBA, a Master in System Dynamics and a data science specialization. I am also a Lean Six Sigma Black Belt.
I have more than 10 years of working experience in management consulting, supply chain consulting, process improvement and optimization, IT and business development/Marketing
Frequently Asked Questions
When does the course start and finish?
The course starts now and never ends! It is a completely self-paced online course - you decide when you start and when you finish.
How long do I have access to the course?
There may be different prices at any given point for this product for yearly monthly or life-time subscriptions. If you happen to buy a life-time plan, then you will have access to the course forever across all your devices. Monthly and yearly plans have limited durations and need to be paid periodically.
What if I am unhappy with the course?
We would never want you to be unhappy! If you are unsatisfied with your purchase, contact us in the first 7 days and we will give you a full refund. Before 15 days you will get a 50% refund and before 30 days a 25% refund. In all these scenarios, you will lose access to the course. You can always come back in the future and pay the difference to get access again.
Does the price include taxes?
The price includes taxes to some extent, nevertheless in certain countries you have to pay additional fees. Since this course is available worldwide, I can't predict what the additional fees are for you and I'm sorry for that.
Does the price include the possibility to ask questions about content that is not present in the lectures? Or maybe getting help on my personal projects?
You can always ask questions that are directly associated with the content of the lectures and I will respond as soon as I can (unless you paid a student price). This course is quite complete and it's easy to understand. My interaction is rarely needed. If you want help with something else related to personal projects, I work as a consultant and charge around $100 USD/hour. If you want additional help, outside the boundaries of the course, you are free to contact me if you are willing to pay the fee.
What kind of certificate do I get at the end of the course
To obtain a certificate there will be a payment option that is more expensive and that will include a final project. This means a lot more work for you, but we give certificates only after completion of the milestone project. The certificate states: "Certificate of Proficiency. YOUR NAME has demonstrated a fundamental level of competence in System Dynamics Simulation Modeling, by completing a 16 hours course and developing a full professional System Dynamics project"
Are there assignments or projects?
There are some assignments during the course, and if you are interested in getting a certificate there is a final project that will be supervised.
I have no money, can you give me access to the course at a cheaper price?
If you are interested in doing this course and get access FOREVER for a reduced price, contact me at http://noorjax.com/contact/ giving me your Linkedin profile, the country where you live and sending a picture that proves you are a student. Depending on the country you are from, You will get a special coupon to get the course for $49-79 USD. With this reduced payment, you agree not to get additional help from the instructor if you have questions about the course.
Is the PLE version of AnyLogic enough?
Yes, but there are a couple of lectures on experiments that are only available on the Pro or research edition (calibration, compare runs and sensitivity analysis).. But that's all... you can always use the 60-days trial for that and I also show some workarounds to use those experiments in the PLE
How do I know if this courses teaches System Dynamics properly?
This course was reviewed by: - The System Dynamics Society President - The Executive Director of the System Dynamics Society - The head of training services of The AnyLogic Company - The head of training of The AnyLogic Company in North America - The head of customer support of The AnyLogic Company
My payment doesn't work!! What do I do?
Try to use a credit card, that should almost always do the trick. Apple pay is restricted in some countries and so is PayPal. Contact me for more payment options at
[email protected]
stating your country, preferred method of payment and what you tried in the system that doesn't work.